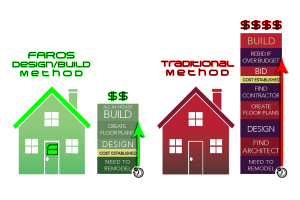 Q: WHAT IS A DESIGN/BUILD FIRM?
A: We are not the just architect, the contractor, the sub-contractor, or the engineer; We are all the above in one single responsible entity.
Q: WHY IS A DESIGN/BUILD FIRM AN ADVANTAGEOUS SOLUTION?
A: The expertise of both the designer and the contractor combine to produce not only a greater value, but a much more comfortable position for the owner. There is only one entity to talk to, and one entity which will provide all of the answers throughout the design and construction processes.
Q: HOW DOES THIS BENEFIT MY BOTTOM LINE?
A: The collaboration of the designer and the builder reduces complications and misinterpretations that could otherwise hamper progress and drive up cost. Result: savings for your wallet and your watch.
Q: HOW DOES THIS ENHANCE MY INFLUENCE IN THE PROJECT?
A: Since you never have to visit two separate offices to express a desired change or argue a point of view, it will never be easier to make sure your project stays well – yours. Feel free to contact us at the office or on site. You will see familiar faces, and rest at ease knowing that all discussions that take place have rippled through the company and will be communicated fully through your design.
Q: WILL THIS INTEGRATED APPROACH SAVE ME TIME?
A.Your project can be "fastracked" because most of the fundamental components of construction can begin while finishing details are still in discussion. This means that the overall time to design and build your project is substantially reduced because design and construction activities can overlap without the builder or designer feeling as if they are getting ahead of the other.
Q: DOES THIS APPROACH MINIMIZE UNFORSEEN PROJECT HICCUPS?
A: Because all FDBR tradesmen are involved from project inception, potential issues are brought to light and to our clients attention before any job begins.
Q: WILL THIS MAKE IT EASIER FOR ME TO MAKE ANY CHANGES TO THE SCOPE OF THE PROJECT?
A.Design adjustments that may be desired during construction can be implemented in a fraction of the time and at a fraction of the cost compared to the traditional "top down" format.
Q: WHO HAS MORE RESPONSIBILITY IN THE PROJECT?
A: No more worries about who is pointing fingers at who. An integrated Design/Build team where the architect, contractor and engineer work together allows everyone to focus on the clients needs rather than protecting their own interests. There is only one entity responsible for the project and answerable to the client – FDBR.
How Can We Help You?
Pride and integrity go into every project we become involved with, and with unsurpassed attention to detail, our client and community relationships have developed and flourished. Contact us today to schedule your FREE consultation!
No-Cost Consultations and Estimates
Unique & Sustainable Design Approach
Quality Construction Services
Creating Long-Lasting Relationships
Complete Customer Satisfaction