Coastal Master Planning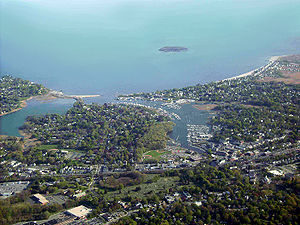 Master-planning is one thing but coastal master-planning is a whole other animal. There are so many different things to consider from the grand to the minuscule.
With New England weather beginning to mirror a Floridian climate, our cities and our infrastructure must respond in kind. No longer can we build ground level structures in low lying areas. No longer can we ignore the increased frequency of flooding. No longer can we ignore inevitable sea-level rise. The damage has been done, but the current efforts towards re-building and restoration lack both direction and foresight.
For example "raising" low lying homes is a common solution, but the methods differ greatly. So do the recommended heights that a home should be lifted to. Even the materials that are being used need to be looked at with a different lens. Our goal is to not only help people and communities find clear and succinct answers to these and other questions, but to provide tangible, logical and practical solutions.
Knockdown & Rebuild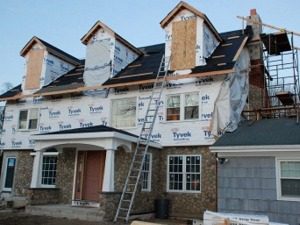 You may notice that nowhere do we mention "lifting" a home. Lifting the homes in these areas is something that we refuse to do. It may seem a bit odd that we are not involved in "jacking up" houses since so many homes in this state and others are currently undergoing this process, and we are coastal developers. However it is because of our experience and extensive research that we refuse to partake in this method of construction.
We do not believe that homes built in the 1920s and 30s are meant for this transition both structurally and aesthetically. Homes on the coast are continuously battered by the corrosive sea air and water and inevitably become compromised over time. For example a home in an area we are currently developing was lifted and during the process fell apart because all of the metal nails had rusted out. For this and many other reasons we cannot, with integrity, pursue this course of action.
We are only interested in creating sound structures utilizing the latest in coastal construction technology that will stand both the test of weather and time. We are also only interested in making sure that our clients get the most for their investment. Almost everyone on the coast is going to have to take some course of action in response to the increased frequency of storms for protection of personal property and in avoidance of insurance premiums.
You can trust that when you choose FDBR to handle your coastal project, that your new home will be built to last with a solid foundation that won't wash away, with a structure built to the correct and current standards, and with methods that are cost effective and efficient.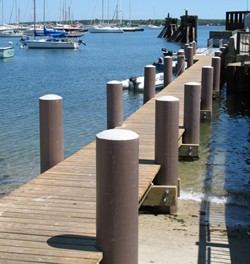 Docks & Waterways
Docks and waterways go hand in hand with coastal construction. if you are living on the coast it is for one of two reasons. The first reason is your love of being close to the water, the second reason is your enjoyment of being out on the water. A dock on your property is the icing on the cake so to speak.
Our method of construction lends itself to the realm of dock building and our marine contractors are well versed in their design, permitting, and construction. Coupled with our design sense and aesthetic, your new dock will be your stylish connection to the water.
Erosion Control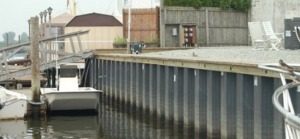 Besides lifting your home or thinking about your access to the water it may be more wise to concern yourself with the waters access to you. When a storm comes in it brings with it intense tidal forces and when those forces leave they tend to pull things back with them. Things such as your soil. Eventually this erosion of your soil or sand can begin to undermine your property and those around you. Controlling this loss then becomes an important issue that needs to be addressed.
We use retaining wall systems that are environmentally friendly and will not corrode and pollute the ocean and ground water systems. In fact some of our methods of erosion control actually promote and enhance their surrounding aquatic environments.
How Can We Help You?
Pride and integrity go into every project we become involved with, and with unsurpassed attention to detail, our client and community relationships have developed and flourished. Contact us today to schedule your FREE consultation!
No-Cost Consultations and Estimates
Unique & Sustainable Design Approach
Quality Construction Services
Creating Long-Lasting Relationships
Complete Customer Satisfaction